Joe Tarkany 1954-2015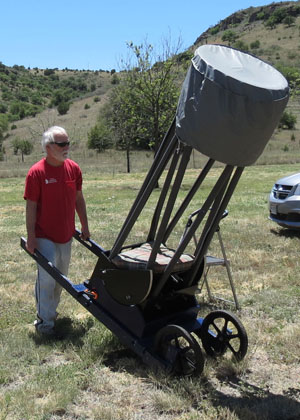 It is with great sadness I have to share the passing of Joe Tarkany, long time Miami Valley Astronomical Society member and avid amateur astronomer. I think it's safe to say that Joe's boisterous enthusiasm for all things astronomical touched so many people. His voluminous knowledge of the night sky was revered by many. He will be forever missed.
We would like to extend our condolences to the Tarkany family. Please accept our heartfelt sympathies for your loss.
Mass of Christian Burial will be held Friday August 21, 2015 at 10:30 am at The Church of The Incarnation Catholic Church (55 Williamsburg Lane, Centerville, Ohio 45459). Visitation will be Thursday evening from 5:00 pm to 8:00 pm at Newcomer Funeral Home - South Chapel (3940 Kettering Blvd., Kettering, Ohio 45439). Burial will be in Calvary Cemetery.Additional details available in the obituary.
Those wishing to make a donation in Joe's memory can send it to:
MVAS Tarkany Memorial P.O. Box 340896 Beavercreek, OH 45434
The Miami Valley Astronomical Society thanks you for your donation.