Horse Head Region Labeled for learning and Observing pleasure!
Hi all,
this shot is labeled , Canon Rebel Xsi & 5" vixen reflector scope, ISO 400
Alnitak - Zeta Orionis the eastern most star in Orion's belt.(a close double star)
NGC2024 The Flame Emission Nebula sit right next to Alnitak, easy to find and see!
NGC2023 the Blue reflection nebula has a 7.8 mag star at its center.
IC435 Small Blue reflection nebula at bottom edge of image, Mag 8 star at center.
IC432 Small Blue reflection Nebula left of Alnitak, 6.99 mag star involved
IC431 Small Blue reflection Nebula (above IC432) Mag 7.6 star at center
B33 (Barnard 33) The Dark nebula AKA The Horse Head Nebula
IC434 The Large Red Emission Nebula (background of the horse head)
Sigma Orionis is 3.77 mag star
Best Regards,
John Chumack
www.galacticimages.com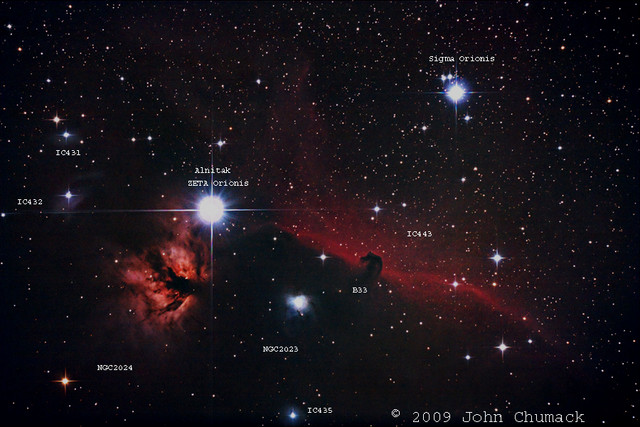 MVAS Memberships
The MVAS. is a proud
Alliance Member of the Meade 4M Community
supported by
Meade Telescope
, makers of
RCX400 Astronomical Telescopes

The MVAS is a member of NASA/JPL
Night Sky Network
The MVAS is a member organization of
The Astronomical League