SS Auriga – Outburst due?
Time & Date: 01h 44m UT on 1-17-2009
Telescope: Meade LXD75 SN6
Camera: Meade DSI Pro II
Filter: IDAS LPS-2 + Meade UV/IR (Lum Filter)
Exposure: 11x30sec, saved as FITS
Guide scope: Meade DSX-90, DSI Pro, and Envisage
Software: Envisage, Autostar Suite Image Processing (ASIP), Photoshop
This should be a neat one to key an eye on. SS Auriga (the tiny point of light just below the magnitude estimate) is a dwarf nova similar to U Gem and SS Cyg. If I read the charts right it erupts about every 55 days and the last outburst was in late October, so it's due. When it lights-off it'll be about as bright as the brightest stars in this field. It is so neat not only being able to see stars this faint but also to be able to do accurate photometry on them using the equipment I have from my back yard.
-John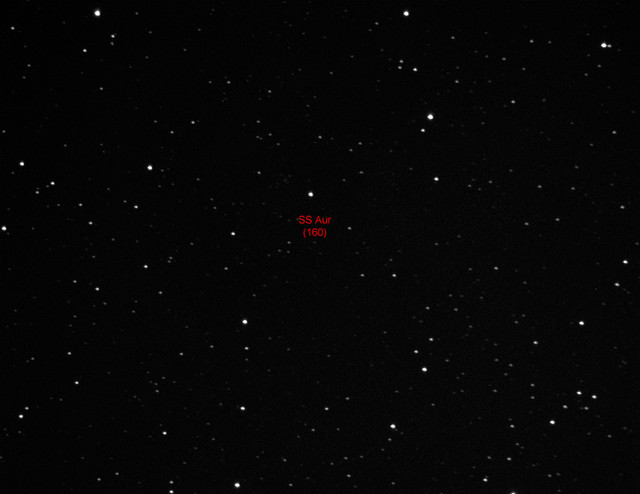 MVAS Memberships
The MVAS. is a proud
Alliance Member of the Meade 4M Community
supported by
Meade Telescope
, makers of
RCX400 Astronomical Telescopes

The MVAS is a member of NASA/JPL
Night Sky Network
The MVAS is a member organization of
The Astronomical League