Aurora Borealis visited Ohio last night 07-16-2012 !
Well after the thunderstorms blew through last night it cleared off and I was able to capture photographic Auroras in southern Ohio.

Around midnight, I could see the faint red glow, and some purple, with and occasional green bands, but it was definitely faint.
They showed up better photographically. I shot this image from my friend Williams backyard in New Carlisle, Ohio.
William Trost and I watched the Boulder, Colorado Magnetometer & The Space weather website and can see the reading live online…while imaging in Ohio and when it peaked up to 6.6, I could see the red glow on the horizon, and knew it was time to take a shot!
The Aurora is red & purple glow to the lower right, below the Big Dipper, Little Dipper, & Draco. It varied from about 20 to 30 degrees off the northern horizon for us last night!
The constellations of Bootes,Corona Borealis, Hercules are also visible to the upper left.
Image details:
Canon Rebel Xsi & 8mm lens F4 (cropped)
ISO 800, 41 second exposure
07-16-2012 12:22pm E.S.T.
New Carlisle, Ohio (just North of Dayton)
Best Regards,
John Chumack
www.galacticimages.com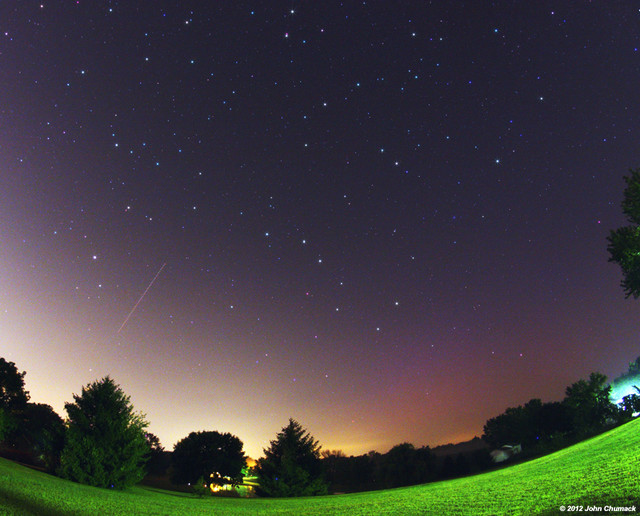 MVAS Memberships
The MVAS. is a proud
Alliance Member of the Meade 4M Community
supported by
Meade Telescope
, makers of
RCX400 Astronomical Telescopes

The MVAS is a member of NASA/JPL
Night Sky Network
The MVAS is a member organization of
The Astronomical League