My Homebuilt 16.5" f/6.5
This telescope was built in 1998 right before I started my second pass through graduate school so I knew that I was going to be too busy to even think about starting this scope. I had been hording the blank since 1986 waiting for the opportunity to tackle this project and I snuck it in just in time. (Graduate school ended up taking 8 years to complete, so this turned out to be a wise choice.) The driving force behind the design was keeping it simple, inexpensive, and robust. I ground the mirror fairly long to make it easy to figure and to reduce the size and cost of the secondary. To further squeeze as much as I could out of the small secondary I dispensed with the focuser and went with a simple 1.25" drawtube slide (a bit of 1.25" chrome drain pipe slipped through a beefed up section of the side wall). The secondary holder is a twin-stalk post design and the mirror cell is a robust six-bolt push-pull system. The only serious goof was an error in calculating the allowable weight of the upper tube assembly, hence the lightening holes and 25 pounds of lead hiding behind the lower tube assembly. The four-strut design looks too light, but they're actually quite stiff and there is very little flexure. Still, the long-range plan is to rebuild the upper tube assembly to make it much lighter and to convert the 4-strut truss to a more conventional 8-strut truss. I also want to shorten the tube a bit, buy a larger secondary, and add a Moonlite focuser, but that's for another day.
Note that when in use I close the truss with a lightweight shroud. Sadly, when the telescope was originally completed we tried to coat the mirror ourselves using a vacuum chamber we had at work. The coating was never very good and quickly corroded so the telescope has spent the last 10 years in storage. A couple of weeks ago the pieces finally fell into place to have a real coating applied to the mirror and I just got it back from Clausing today. The scope is sitting outside right now and as soon as I'm done here I'm going to go out, install the shroud, and have a great evening!
-John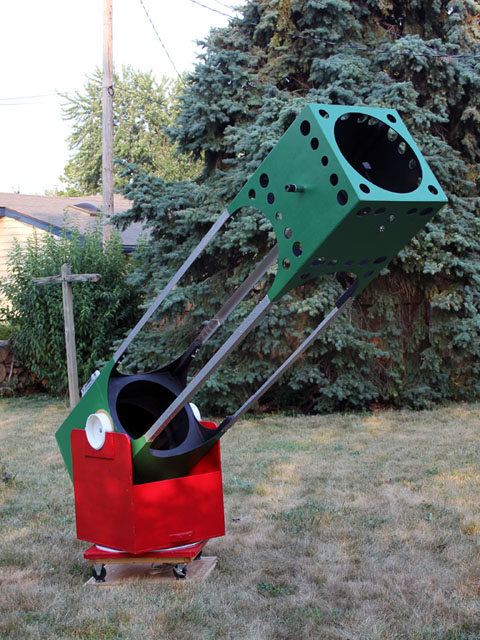 MVAS Memberships
The MVAS. is a proud
Alliance Member of the Meade 4M Community
supported by
Meade Telescope
, makers of
RCX400 Astronomical Telescopes

The MVAS is a member of NASA/JPL
Night Sky Network
The MVAS is a member organization of
The Astronomical League