M42 & M43 The Awesome Orion Nebula with my Canon Rebel
Hi All,
Happy New Year!!!
Here is the result of 8 hours of image processing on a very well known bright object..................I captured this with my little 5" Vixen Newt. Scope and my Canon Rebel XSi(12mp) for a 42 minute exposure at John Bryan State Park last Monday night. No filters were used.
RAW Canon files (4 minute subs), Darks(5 averaged) applied in Nebulosity, and completely processed in Adobe PS, using multiple Layering, and multiple Masking methods.
The reason it took so long to process is I had to deal with the immense brightness range in this object, Bright objects easily over expose with today's DSLR's.
2 minutes worth of short exposures of 10 sec to 30 secs, to help keep the Trapezium from burning out helped a lot.
I also had to try some new methods to handle it all without clipping any of the Data...and dealing with the light pollution gradients was tough enough and keeping the noise levels low while still seeing the faint outer reaches of the nebula.

From left to right
NGC-1981 Open Cluster, NGC 1973-75-77 Reflection Nebula(Running Man Nebula),
M42 & M43 The Great Orion Nebula Complex, and NGC1980 Open Cluster.
Overall I'm happy with the results, I attached a higher res jpg, so you can enlarge and explore the details a little.
This will make a very nice 30x40 print for my shows too!
Probably my best and most time consuming processing job with a shot taken with my DSLR!
Best Regards,
John Chumack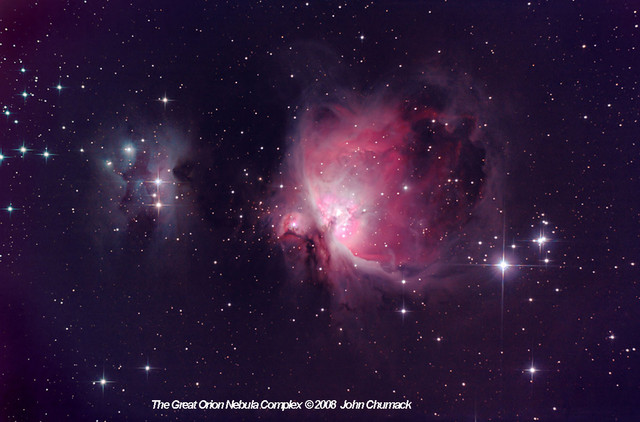 MVAS Memberships
The MVAS. is a proud
Alliance Member of the Meade 4M Community
supported by
Meade Telescope
, makers of
RCX400 Astronomical Telescopes

The MVAS is a member of NASA/JPL
Night Sky Network
The MVAS is a member organization of
The Astronomical League