Jupiter with GRS & Europa Shadow Transit
HI ALL,
I woke up last night at 2:00am, hobbled out to my backyard, leg still hurts, but something was telling me to look at Jupiter....yep, it was A shadow Transit, I actually took about 20 sets of RGB's this is one of them, but unfortunately the neighbor's Tree blocked my view after 3:00am so I was not able to follow it beyond this point. Seeing wasn't the Best but it had Okay moments!
Jupiter & Europa Shadow Transit 08-22-11 06:53 U.T.
DMK Fire-wire Camera, 2x Barlow & Meade 10" SCT
2700 frames stacked in Registax 6
Best Regards,
John Chumack
www.galacticimages.com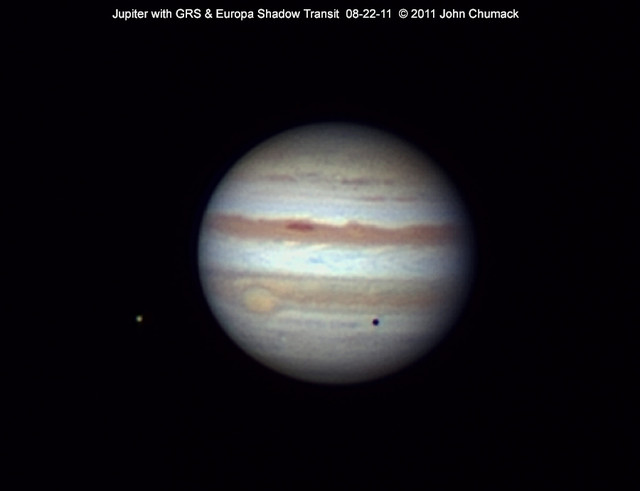 MVAS Memberships
The MVAS. is a proud
Alliance Member of the Meade 4M Community
supported by
Meade Telescope
, makers of
RCX400 Astronomical Telescopes

The MVAS is a member of NASA/JPL
Night Sky Network
The MVAS is a member organization of
The Astronomical League