Saturn 05-13-11 decent seeing!
Hi All,
Despite the partly cloudy skies & humidity last night, the seeing was halfway decent for a change. Maybe 7 out of 10.
Here is my shot of Saturn captured around 12:30am from my backyard in Dayton.
DMK 21AF04 Fire-wire mono Web camera & 2x Barlow, attached to my 10" SCT @F20 scope,Astronomiks RGB filters, 900 to 1000 frames per color stacked in Registax, assembled in Maxim DL.
I'm glad I decided to take a peak outside before going to bed last night, it was worth the effort!
Best Regards,
John Chumack
www.galacticimages.com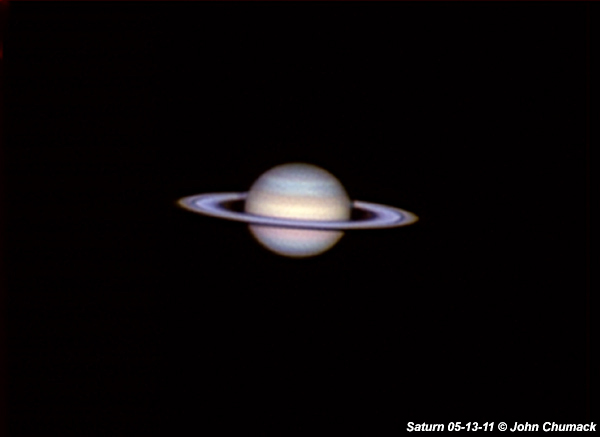 MVAS Memberships
The MVAS. is a proud
Alliance Member of the Meade 4M Community
supported by
Meade Telescope
, makers of
RCX400 Astronomical Telescopes

The MVAS is a member of NASA/JPL
Night Sky Network
The MVAS is a member organization of
The Astronomical League