The Milkyway in Cygnus
Here is a Milkyway shot,
I just got around to archiving all my images from last year, and found some unprocessed image folders on my laptop.
I'm always shooting, even when I travel.
I often don't get time to process everything with my busy schedule….but it's been cloudy a lot here lately, so now is the time to get all caught up.
...
While on my way back from a business trip to Oklahoma City,
I captured this Milkyway shot off of US 44 between Tulsa, OK & Joplin, MO. September 7th, 2010.
This is a 10 minute shot Canon Rebel Xsi, 17mm lens, (2 x 5min subs) 10 minute exp. ISO 800.
The Milkyway in Cygnus (centered), from Cepheus (upper right edge) through Aquila (lower left)
Visible are the Garnet Star in Cepheus with IC 1396 Nebulae Complex (upper right edge),
The North American Nebula, & Pelican Nebulae (upper right), are the brightest red nebulae in this FOV.
The Gamma Cygni Nebulae (near center right) and right above that the thin Veil Nebula Supernova Complex is also visible just above center.
The Bright Stars Vega (bottom center), Altair (bottom Left) & Deneb (Upper right) make up the Summer Triangle.
Several Messier & NGC star clusters are visible as well.
Best Regards,
John Chumack
www.galacticimages.com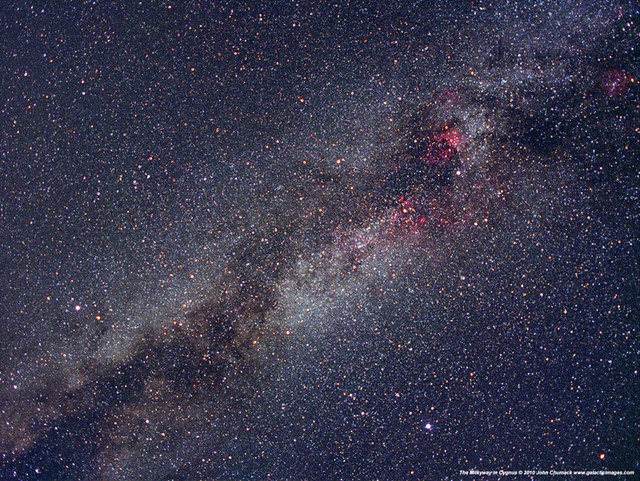 MVAS Memberships
The MVAS. is a proud
Alliance Member of the Meade 4M Community
supported by
Meade Telescope
, makers of
RCX400 Astronomical Telescopes

The MVAS is a member of NASA/JPL
Night Sky Network
The MVAS is a member organization of
The Astronomical League