M78 , NGC2071, McNeils 2004
Hi All,
M78 Blue Reflection Nebula Complex & NGC-2071(bottom) & McNeil's Nebula (near top)
M78 is one of the Brightest of the Diffuse Reflection Nebula in the sky, an easy object in Binoculars.
M78 can be found about 2 degrees north and 1.5 degrees East of Zeta Orionis or Alnitak, the Eastern most
Star in Orion's Belt.
These Dark Cocoons of Interstellar dust are the birth places of new Stars and Solar Systems.
All these nebulae are associated with the molecular cloud LDN 1630, B.T. Lynds. Catalogue of Dark Nebulae.
They are all part of the Greater Orion Nebula/Horse-head Nebula Complex in the Constellation of Orion and are
located at a distance of 2300 light years away.
In and near the nebula M78 are approximately 50 low mass stars, many are T Tauri type irregular variables stars.
Stars of this type are main sequence stars and can vary in brightness by about 3 to 4 magnitudes. Many are F or G spectral type, and are similar to the our sun,
They can be 4 to 5 times brighter than their spectral type would suggest, and are associated with nebulosity.
Likely these are very young stars which are still in their formation process.
My photo of M78 is a 3 hour exposure taken with my Home-made 16" Fork Mounted Newtonian telescope & a QHY8
Color CCD Camera from my Observatories at JBSPO in Yellow Springs, Ohio on 11-09-2010.
Best Regards,
John Chumack
The Chumack Observatories
MPC# 838 Dayton Research Station
MPC# H66 Yellow Springs Research Station
www.galacticimages.com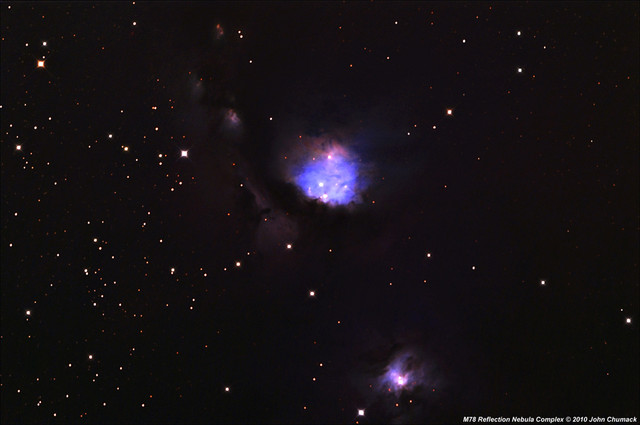 MVAS Memberships
The MVAS. is a proud
Alliance Member of the Meade 4M Community
supported by
Meade Telescope
, makers of
RCX400 Astronomical Telescopes

The MVAS is a member of NASA/JPL
Night Sky Network
The MVAS is a member organization of
The Astronomical League