M33 Close-up of A Face on Spiral
Hi All,
Here is a beautiful shot Close-up and in the Face of a "Face on Spiral"
M33 The Triangulum Spiral Galaxy, also known as NGC-598 or The Pinwheel Galaxy.
Now look closely and you will dozens of small pink Nebulae (HII regions), star formation regions scatter throughout the Galaxies spiral arms. There are 16 of the pink HII objects that are assigned their own NGC or IC catalog numbers.
Most are bigger than our own Orion Nebula.
The Brightest & Largest Pink HII region on the lower right is NGC 604 and is estimated to be 1500 light years across.
There are lots of Dark rifts and dust lanes visible all the way to the core! Some of the spiral arms are loaded with new born bright blue stars and star clouds.
There is a neat little background galaxy way off in the distance, near a bright star on the left side of the image.
M33 is in the Constellation of Triangulum and is one of our sister galaxies, its the 3rd largest in the Local Group of Galaxies (M31 Andromeda & The Milkyway are the 1st and 2nd).
M33 is about 50,000 light years in across, and contains some 40 billion stars, but not as much as our Milkyway which contains some 400 billion stars.
M33 sits at 3 Million light years away (1 light years = 5.8 trillion miles). It is barely visible to the naked eye from a dark location, thus making M33 the most distant object the human eye can see without optical aid.
This is a 3 hour exposure (180minutes = 36 x 5 minute subs) on 10-30-2010 from my observatories at JBSPO.
Captured with my QHY8 color CCD camera & my Home-made 16" scope,
Calibration, Dark Bias, Flat, in Nebulosity, Stacked in Deep Sky Stacker, Neat Image, and Final presentation in Adobe PS.
Best Regards,
John Chumack
The Chumack Observatories
MPC# 838 Dayton Research Station
MPC# H66 Yellow Springs Research Station
www.galacticimages.com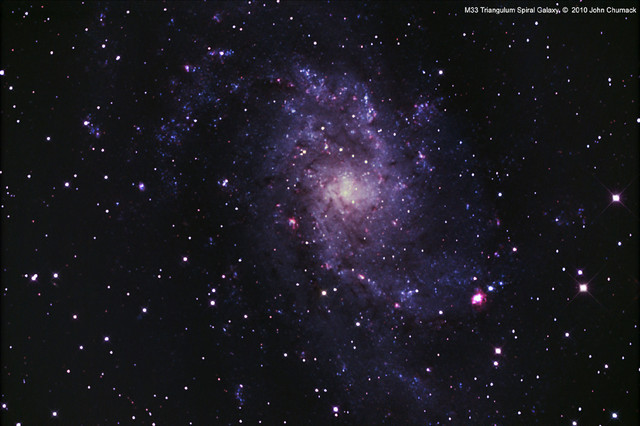 MVAS Memberships
The MVAS. is a proud
Alliance Member of the Meade 4M Community
supported by
Meade Telescope
, makers of
RCX400 Astronomical Telescopes

The MVAS is a member of NASA/JPL
Night Sky Network
The MVAS is a member organization of
The Astronomical League