"Interstellar Twister" The Western Veil NGC-6960 Close-up!
Hi All,
Here is my "Interstellar Twister" from Tuesday Night, despite the waxing Moon,
I captured this Extreme close-up of NGC6960, The Witch Broom Nebula Complex, or Supernova Remnant in the Constellation of Cygnus.
The Veil Nebula NGC-6960, is part of the Cygnus loop, radio source W78, or Sharpless 103, also known as the Western Veil. The bright Star at top is 52 Cygni.
The Veil Nebula is the remnant of a Supernova explosion that occurred about 5,000 years ago, the thin ribbons of material are expanding thru space due to the initial blast shock wave of the Supernova explosion!
In this close-up view NGC-6960 reminds me of a Tornado, so I dubbed it the "Interstellar Twister"!
The Veil is just Awesome… It's one of the most beautiful objects in the sky and this shows the most detail I've gotten to date!
I used my Home-made 16" diameter Newtonian Scope & A QHY8 CCD Single shot color camera for a 120 minute exposure.
Captured from my observatories at JBSPO in Yellow Springs, Ohio USA on 09-14-2010
Best Regards,
John Chumack
The Chumack Observatories
MPC #838 Dayton Research Station
MPC #H66 Yellow Springs Research Station
www.galacticimages.com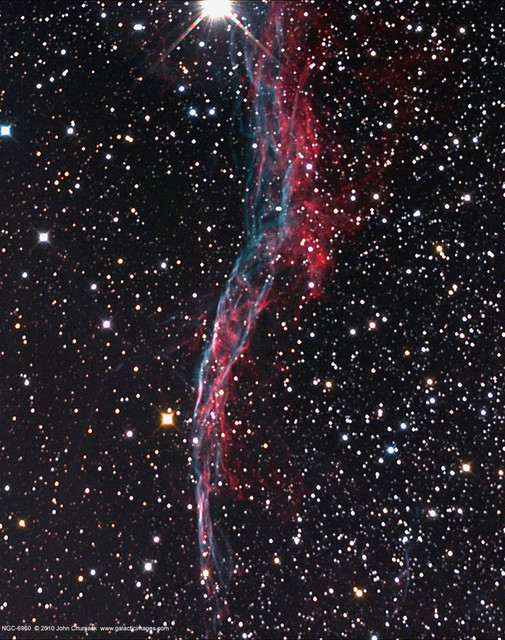 MVAS Memberships
The MVAS. is a proud
Alliance Member of the Meade 4M Community
supported by
Meade Telescope
, makers of
RCX400 Astronomical Telescopes

The MVAS is a member of NASA/JPL
Night Sky Network
The MVAS is a member organization of
The Astronomical League