NGC-253 Sculptor's Dusty Spiral Galaxy
Hi All,
Last Wednesday night I captured this very dusty Spiral Galaxy NGC-253. There are a lot of HII regions visible in the arms as little pink spots.
NGC-253 is located very nearby in the Southern constellation of Sculptor.
NGC-253 is about 10 Million light years from Earth. It is one of the brightest Galaxies as well as one of the dustiest.
Unfortunately it sits so low in the sky for us Northern Hemisphere observers, NGC-253 certainly would rival The Great Andromeda for detail if it were higher in the sky!
This is a 60 minute exposure with my homemade 16" Newt. scope & QHY8 CCD camera, captured from JBSPO in Yellow Springs, Ohio on 09-09-10.
Best Regards,
John Chumack
The Chumack Observatories
MPC #838 Dayton Research Station
MPC #H66 Yellow Springs Research Station
www.galacticimages.com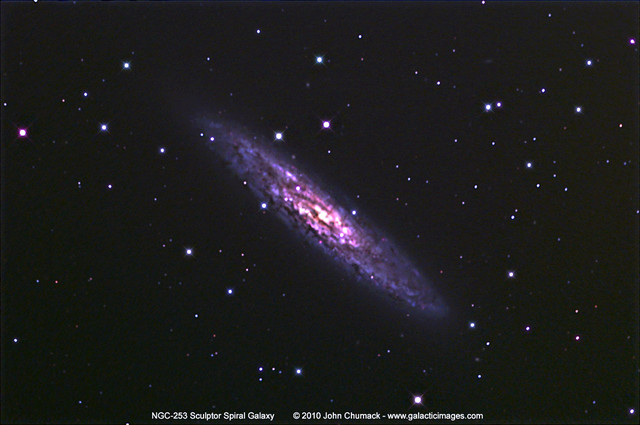 MVAS Memberships
The MVAS. is a proud
Alliance Member of the Meade 4M Community
supported by
Meade Telescope
, makers of
RCX400 Astronomical Telescopes

The MVAS is a member of NASA/JPL
Night Sky Network
The MVAS is a member organization of
The Astronomical League