NGC-2903 Barred Spiral Galaxy in Leo
Hi All,
Here is my latest shot of NGC-2903 Barred Spiral Galaxy in Leo. Really a great view in any telescope...it is located not far from Mars right now...so take a peak at it, definitely one of my favorite Leo Galaxy targets.
Captured from my observatory JBSPO in Yellow Springs...with my homemade 16"
scope & QHY8 CCD single shot Cooled Color CCD Camera for a 60 minute exposure on 01-14-2010.
It's not Hubble, but will do for such a bright sky, all that snow on the ground really lit the sky up and gave me very bad and complicated light gradients, even with xt gradient remover and LPR filter, it was tough, but after 4 hours of trying to process it out, I finally got it looking good.
Finally everything seems to be working well with my 16" scope & QHY8 CCD camera, Just need to get some good stable seeing....I think I could have gotten better details in the galaxy, if the seeing was more stable.
Just need more clear nights near New Moon!
Best Regards,
John Chumack
www.galacticimages.com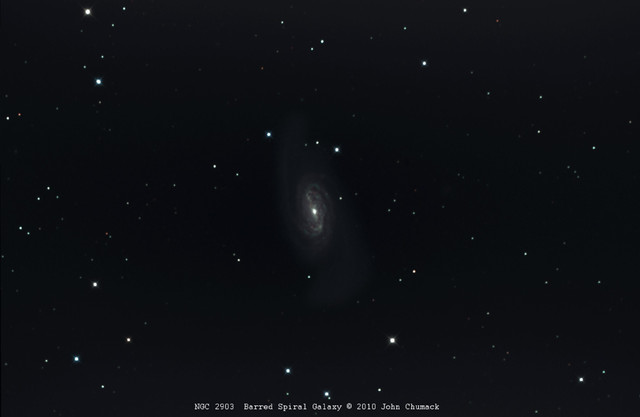 MVAS Memberships
The MVAS. is a proud
Alliance Member of the Meade 4M Community
supported by
Meade Telescope
, makers of
RCX400 Astronomical Telescopes

The MVAS is a member of NASA/JPL
Night Sky Network
The MVAS is a member organization of
The Astronomical League