Pegasus 1 Galaxy Cluster
Hi All,
Now that I got the new Moonlite focuser installed on my homemade 16" scope, I should be able to resume imaging and doing my normal asteroid Research again.
Here is a nice 1 hour shot of Pegasus 1 Galaxy Cluster....
The two bright elliptical galaxies at center are NGC7626 & NGC7619...this field
goes down to below 19th magnitude and galaxies as faint as 18.7.
There are over 30 galaxies visible in this 30 arc min x 45 arc min FOV @ .89 arc seconds per pixel.
QHY8 Color CCD & 16" F4.5 scope, Nebulosity capture, Maxim DL stacked, Adobe processing.
I'm really happy with the results, and the Sitech servo drive system is working really well.
I had a very busy, but productive week and weekend.
More galaxy clusters to come...
Ron Whitehead and I were discussing galaxies cluster this weekend...and he did a spectacular shot of NGC1275 Abell Cluster in Perseus taken with his 5.5 inch refractor scope. A 2 hour exposure....I will be processing this for him later this week.
Best Regards,
John Chumack
www.galacticimages.com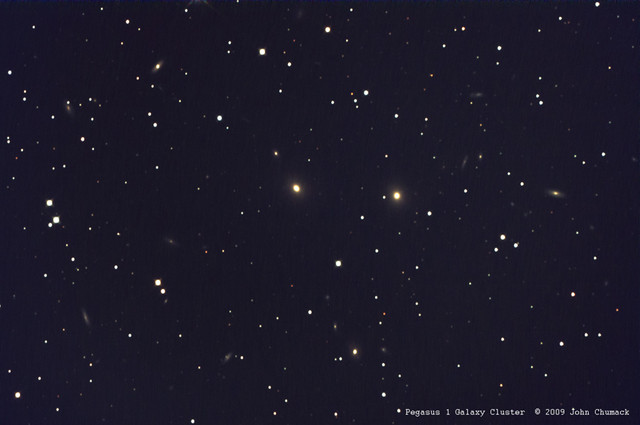 MVAS Memberships
The MVAS. is a proud
Alliance Member of the Meade 4M Community
supported by
Meade Telescope
, makers of
RCX400 Astronomical Telescopes

The MVAS is a member of NASA/JPL
Night Sky Network
The MVAS is a member organization of
The Astronomical League